How to Choose Bathroom Tile Color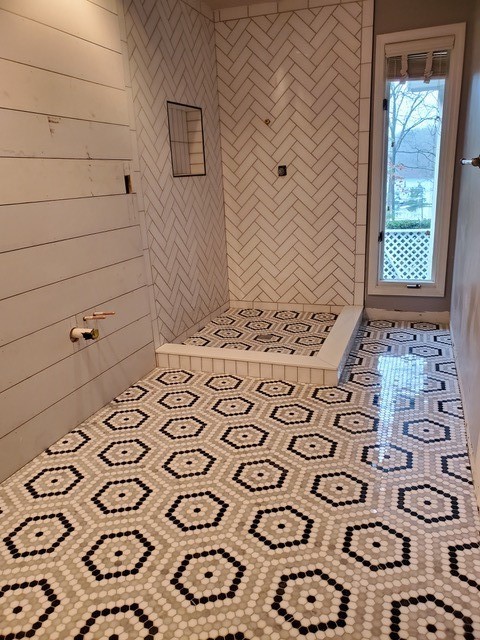 Redoing the bathroom tile in your home is a great way to upgrade the space. New tiles not only refresh your bathroom but create an entirely new and polished atmosphere. To get started on your project, you'll have to start with the basics which means picking out your tile of choice. We've installed all sorts of
bathroom flooring and tile and have some tips to offer when it comes to choosing out your new design and color.
Highlight Areas with Accent Pieces
Tile does not have to be the same throughout the entire bathroom. If you're wanting a blend of simple but also unique, you can choose a neutral tile to cover the majority of the space and a fun pattern to use as an accent piece. When doing so, you get the best of both worlds and your bathroom looks sleek, timeless, and fun. This is also a better option than choosing multiple patterns since this can overwhelm a space and cause the designs to compete with one another.


Smaller or Larger Tile?
When selecting your colors, make sure to keep shape in mind as well. While you may think that white tile will do the same job no matter the size, it actually makes a difference to the overall appearance. Smaller bathrooms can benefit from larger sized tiles which can help to expand the space visually and create an open space.
Darker Tiles with Lighter Walls
If you're looking to choose multiple colors for your bathroom, you can try picking out a darker colored floor tile and pairing it with lighter colored walls. This creates a statement and sense of drama. Just keep in mind that wear and tear is more likely to show up an darker colors than lighter colors.
Match the Shower
If your shower already has a great design going, take inspiration or match what's already there. Choosing a monochromatic color scheme for your bathroom can help the space appear larger since there is one continuous look throughout the entire room.
Go Lighter
Light colors do a great job of opening up a space and the bathroom is one place you don't want to feel cramped or trapped in. White or off-white is a classic choice for bathroom tile and comes in endless designs, shapes, and colors. Be sure to select a lighter grout color as well so there isn't too sharp of a contrast between the grout and the tile.
Your Flooring Professionals
We are a leading flooring company in the area and take great pride in our reputation as a business that does a fantastic job while also caring for the needs of our customers. Ask us about our work with tile floor installations and bathroom remodeling. Call Atlanta Floor One at (404) 578-0926 or
connect with us online to touch base on your next project.