Tips to Protect Your Hardwood Flooring from Your Fireplace


If you had a hardwood floor installation in Roswell, it's important that you take steps to protect them. Though durable, hardwood is prone to certain types of damage if you don't give them the care they need. For example, if you have a fireplace in a room that has hardwood floors, you need to ensure you're protecting your flooring from the fireplace's heat. Here are a few tips for protecting your floors from your fireplace.
Add a Hearth Extension
One sure way to protect your floors from your fireplace is to add a hearth extension. This extends the hearth out in front of the fireplace so that no wood is directly in front of the fireplace's heat. Because hearth extensions are usually made of slate, brick, or some other durable stone material, they can easily absorb the heat from your fireplace without any fear of damage.
A hearth extension also adds a bit of aesthetic appeal to your fireplace and can be a beautiful complement to the rest of the room. However, if you don't want to add another construction project to your list, you can purchase a hearth extension pad. They are non-combustible and will protect your hardwood flooring directly in front of the fireplace without having to build anything permanent.
Functional Grate or Cover
You should also have a grate or cover on your fireplace - not just for the protection of your flooring but for the protection of your home's residents as well. While you may be tempted by grates that look beautiful but don't offer much in terms of coverage, it's extremely important that you purchase a grate that will actually serve its true purpose of keeping sparks from leaping out of the fireplace.
Without a grate, anyone sitting near the fire could be burned by an errant spark. Or, a spark could land on your floors and singe your beautiful hardwood. Opt for one that will permit airflow for the fireplace, but which will keep in any sparks or embers the fire may put off.
Don't Burn Foreign Materials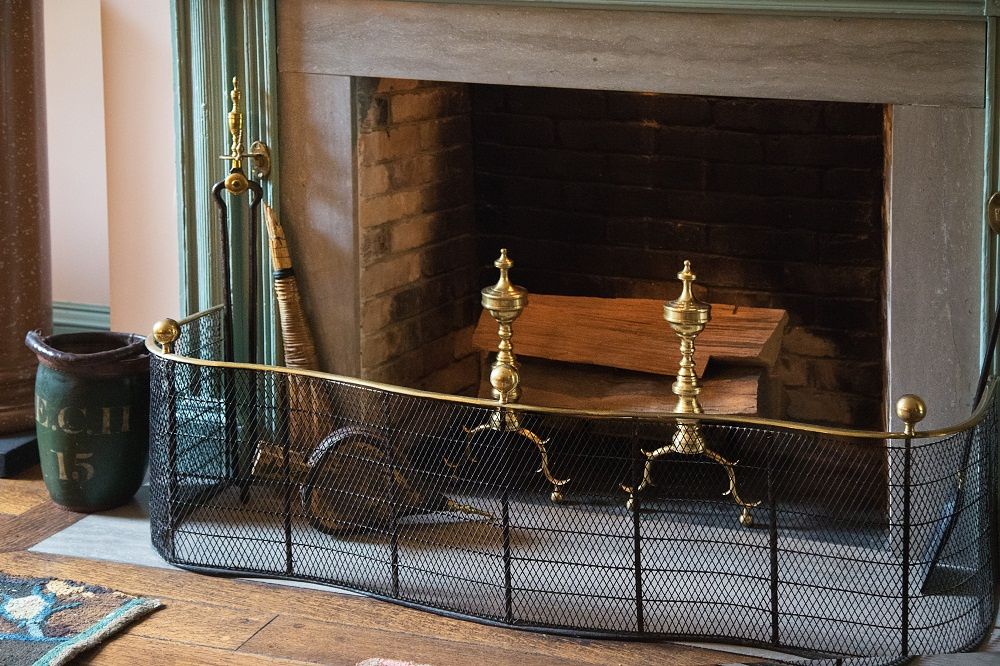 If you have a wood-burning fireplace or stove, then that is the only thing you should be burning in it—wood. Burning paper, trash, or other plant materials can pose several hazards, such as putting off dangerous chemicals and can cause the fire to spark more often. This increases the likelihood of someone nearby getting burned, or of your hardwood floors being marred by these flying embers.
Additionally, you should never use combustible materials like grease or gasoline to start your fire. This can be extremely dangerous to you. Plus, lighter fluids and other such materials - as well as paper and plant matter as described above - can make your fire burn hotter. The hotter the fire, the more likely it is that your beautiful hardwood will be warped or discolored by the heat.
If you have hardwood floors (or you're considering getting them) and also have a fireplace, please keep these things in mind and take the proper steps to protect your flooring from damage. If you do, your hardwood flooring will stay beautiful and vibrant for years to come.
Of course, damage does happen. Whether your flooring has been damaged by a fireplace, your pets, or simple time, contact Atlanta Floor One for hardwood floor refinishing in Roswell. We'll help get your floors back to their previous, vibrant shine.