5 Reasons to Choose Laminate Floors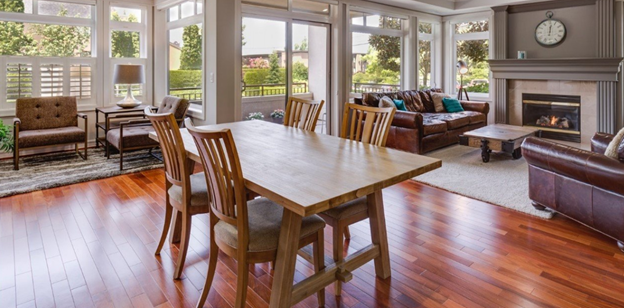 There are many situations where you might be interested in restoring hardwood floors. Maybe you've been living in your home for years and are looking to get rid of the carpet and restoring the beautiful wood underneath or your current hardwood floors have worn over the years. Whatever the reason may be, getting back that timeless look can do wonders in elevating the look of your home. Here's what goes into the process...
Clean and Repair
Atlanta Floor One, Alpharetta, Georgia's premier flooring contractor, will thoroughly clean the area and remove any stains, mold, etc. whether you're starting with bare floor or removing carpet. If you are looking to restore hardwood floor that has been under carpet, we may encounter carpet glue or other pieces of stuck carpet in order to get a clear surface to work with.
If the floors are very damaged, it is best to avoid water or harsh chemicals. These tend to worsen the condition of the floors.
Replacing Old Floorboards
With restoring comes a bit of replacing. Sometimes your wooden planks are damaged beyond repair, and it is better just to swap them out for new ones completely. If your floorboards have deep dents, water damage, warping, or any other type of irreversible damage, we recommend replacing them with new ones.
Sanding and Staining
The majority of the process will involve sanding down the existing floorboards in order to make room for a new finish and stain.
There are usually a couple of steps involved in sanding. Atlanta Floor One will start with a rough sanding, followed by a fine sanding, edging, hand sanding, and buffing process.
If you decide to want your floors stained after sanding, you'll want to make sure to test out the stain on sample pieces of wood so you have a good idea of what the final outcome will be. Finally, a durable finish will be applied to the surface of the hardwood. This will help protect your floors and make them long lasting.
Finding the Right Contractor
One of the most important parts of this process is finding a contractor that knows exactly what they're doing. Atlanta Floor One is a knowledgeable flooring contractor that will guide you through the entire process and keep you updated on what to expect. Restoration can take lots of work, especially for floors that are well-weathered.
Your Flooring Professionals
We are a leading flooring company in the Alpharetta, Georgia area and take great pride in our reputation as a business that does a fantastic job while also caring for the needs of our customers. Call Atlanta Floor One at (404) 578-0926 or
connect with us online to get an estimate on your next hardwood flooring project.